A pharmaceutical multinational based in the midlands required additional office space to support its growing team.
The company management needed a turnkey solution to comfortably accommodate up to 50 staff members.
Furthermore, their requirements called for an adaptable building that could be attached to an existing facility.
They hired EcoMod to design, build and install an open-plan temporary office space (7.5m x 20m) for long-term rental.
Flexible Temporary Office Space
EcoMod created similar temporary office space – as well as laboratories – for other customers in the biotech industry.
And based on the success of those projects, our design team decided that a portable unit from the EcoSpan range offered the necessary flexibility.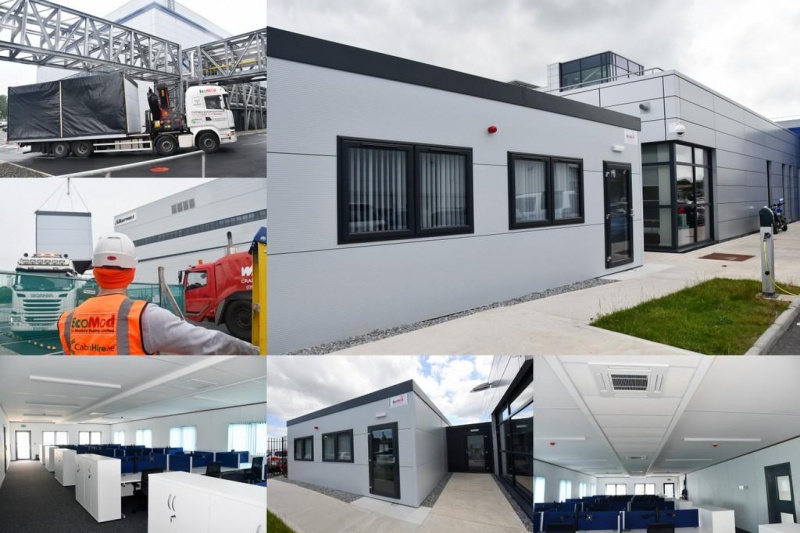 EcoSpan buildings can be manufactured in a variety of sizes and configurations and built as multi-storey complexes.
Fully compliant with the latest Building Regulations, they are equally useful as temporary offices, classrooms, meeting rooms and healthcare facilities.
Purpose-Built
The factory construction involved building six separate modules that were then assembled and installed on location.
Our in-house tradesmen also made a purpose-built link that seamlessly connected the new office to the client's main building.
The link was coated in paint that matched the colour of the main building and its corridor featured a doorway that provided an access point between the two facilities.
Fitted and Furnished
The installation crew completed an extensive onsite electrical fit-out. And the climate-controlled building was fitted with specialised data and power points and ceiling-mounted air conditioners.
Finally, as requested, EcoMod furnished the finished temporary office space with chairs, desks, partition screens and storage units.