SpaceMaker Plus Large Portable Building
All the Space You'll Need.
Contemporary large modular buildings from EcoMod
A step up from the SpaceMaker, the SpaceMaker Plus single module building is perfect for open-plan offices, staff facilities and training rooms. Its contemporary modern design and high-quality spec set the standards for large portable buildings.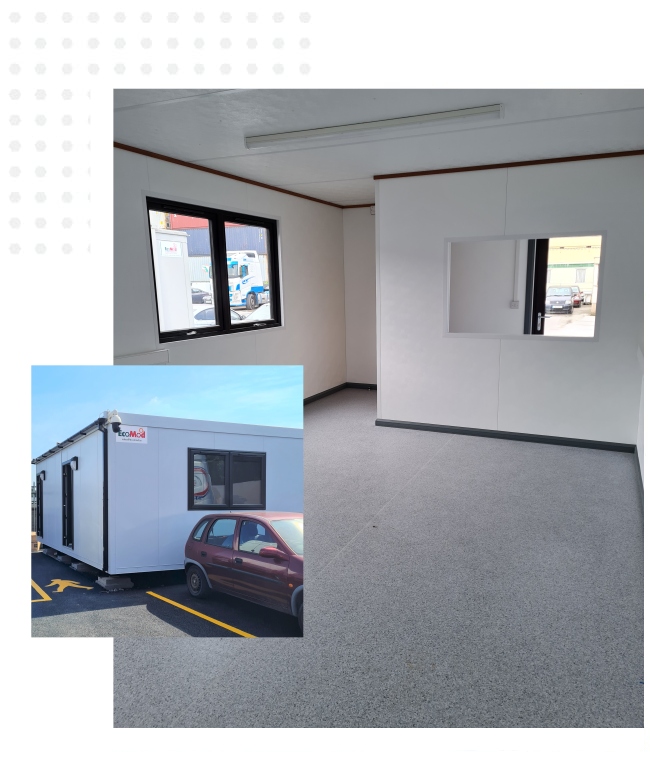 Common Uses
Modern, high-spec and fully customisable
This extra large, fully-insulated portable building provides a scalable solution wherever you need large professional space. Spacious enough to accommodate a full office set up in one building they can also be linked together to form even larger facilities if necessary!
They are fully customisable which makes them a perfect fit for an extensive range of sectors and are delivered fully-fitted, ready for immediate use, minimising any operational downtime.
Common uses include:
Open plan offices
Large canteen spaces
Classrooms
Training Rooms
Entire office suites
Plus many more!
Internal layouts are completely customisable as per your requirements and can include: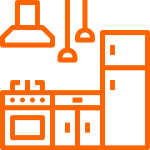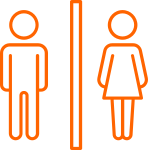 Common Sectors
Large modular buildings that can
be used in any sector
Modular buildings are the future of business, allowing you to scalably customise your space as needed, for a fraction of the cost of a standard building. And, because they are manufactured off-site, they can be installed with minimal disruption to your business or organisation.
Our SpaceMaker Plus modular buildings are extremely popular as office suites across a wide range of sectors and they're perfect for any site that requires additional space!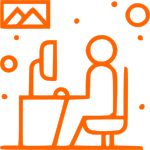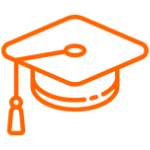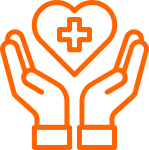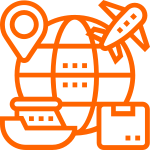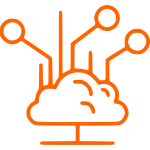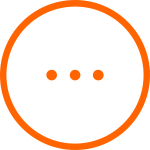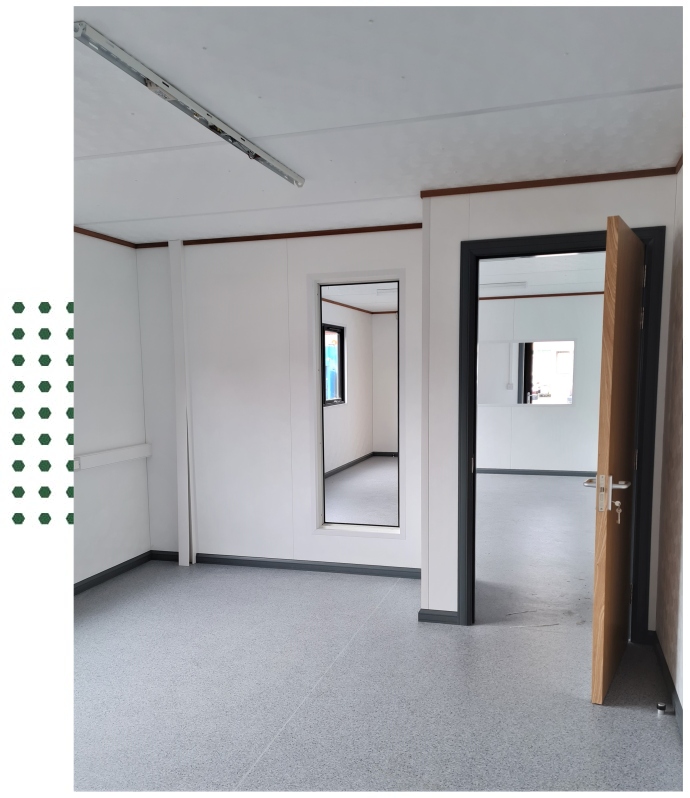 Features Of The SpaceMaker Plus Portable Building
Large, modern high-spec units with plenty of space to grow.
3.6m width, up to 15m long with 2.4m internal ceiling height
Superior floor & ceiling insulation
Building supported by a steel chassis
High-quality welded grey vinyl flooring
External walls are galvanised steel with a plasticol-coated finish
A+ rated double glazed windows with trickle vents & Low-E glass
Secure Entrance door with 5-pin locking system
Energy-efficient LED lighting
Lot 20 compliant energy-efficient heaters
Emergency Lighting
Internal layouts and window & door positions can be designed to meet your requirements
Optional features also include:
Climate Control
Mid-level conduit for electrical fit-out
Data Points
Smoke Detection and Fire Alarm
SpaceMaker plus modular buildings are available for hire and to purchase.
Why Ecomod
Why is a SpaceMaker Plus from EcoMod the right choice for you?
We pride ourselves on building personal relationships with our clients that enable us to truly deliver the modular buildings that best fit the needs of their business.
Modern contemporary aesthetics with high quality finish

Purchase option offers bespoke design choice
Premium quality buildings at competitive cost
Built in Ireland, supporting Irish jobs
EcoMod provides excellent customer from enquiry to installation and therafter
The SpaceMaker Plus looks and feels like a permanent building and offers a cost effective option for transforming your facilities. Get in touch today and let us help you to find the best fit for your business.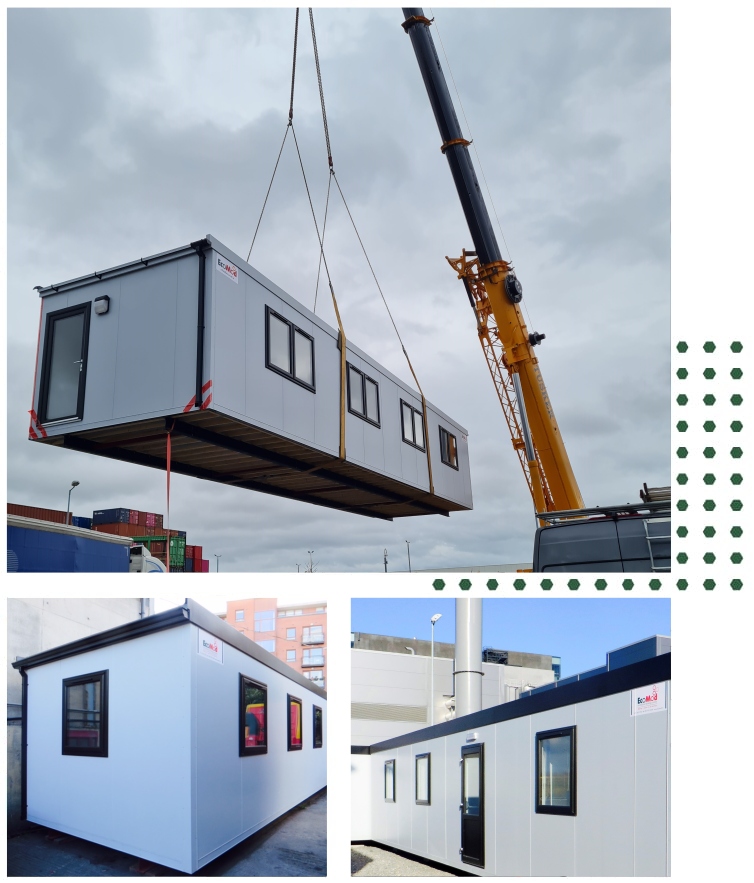 Sample Layouts (14×3.6m)
Let us help you design the perfect space for your business.
The SpaceMaker plus can be configured and customised to meet almost any set of requirements. Our team has years of experience in helping customers to create the perfect modular buildings for their needs, right down to selecting the furniture!
So design your own or speak to us today and let us design the SpaceMaker plus that best meets your needs now, and for the years to come.
What To Expect?
Product lead times depend on stock availability and manufacturing schedule, however the SpaceMaker Plus Building can be delivered and installed in just one day minimising cost and operational downtime.
Quick Response Times
From your first contact with us, one of our team will be in touch with an immediate callback to help assess your modular building needs.

Additional Information
Based on your needs, our team will send you additional videos and brochures to help inform you about the products that best suit your needs.
Site Survey
At the earliest opportunity, one of our team will arrange a site survey to your premises to really assess your needs and the products that best suit the space you have available.
Initial Proposal
Based on a deep understanding of your needs, your organisation and the space available, we will provide you with a detailed proposal for your project.
Final Proposal
With feedback from you and your team, we will develop your final product designs and negotiate a final agreement.

Installation
Our team will complete the installation of your modular buildings in a streamlined and efficient manner, minimising disruption to your business. A single unit can usually be installed in just 1 day!

Customer Aftercare
Our business is built on maintaining excellent customer relationships and providing reliable and responsive aftercare.
SpaceMaker Plus Projects
Take a look at some of the recent projects our team has completed with the SpaceMaker Plus large portable building.
Customer Testimonials
Kind words from our customers
Contact Us
Get in touch with us