EcoPod Mobile Welfare units
Self-Powered welfare units
Modern, fully-equipped & ready for rapid dispatch.
The EcoPod range of modern, super-efficient mobile welfare units can be towed to any location, providing you with the welfare facilities you need within 30 seconds of arrival!
Common Uses
Immediate, energy-efficient welfare facilities
Demand for energy-efficient site buildings is at an all-time high and the EcoPod mobile welfare units are the answer. The EcoPod has its own generator, lighting and water & effluent tanks, providing a self-powered canteen, WC and drying room facilities with easy setup for immediate use.
Our customers love the efficiency, comfort and safety of these high-quality units and you will too!
Commonly used across a wide range of sectors, including:
Construction

Events

Solar farm installation
ESB, rail & utilities
Public works
Emergency services
Plus many more!
High quality mobile welfare facilities: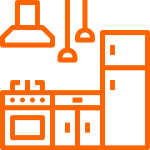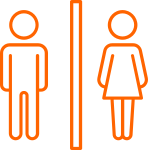 Features Of The EcoPod mobile Welfare Unit
Modern & Fully Equipped Mobile Welfare Units
Towable units
Fully equipped canteen space
Separate WC & drying room
Easy to clean stainless steel surfaces & fittings
Site-ready with fuel & water
Unique hydraulic axles for setup in 30 seconds
Carbon monoxide detector
USB charging points
Available in a variety of sizes (from 16ft to 20ft)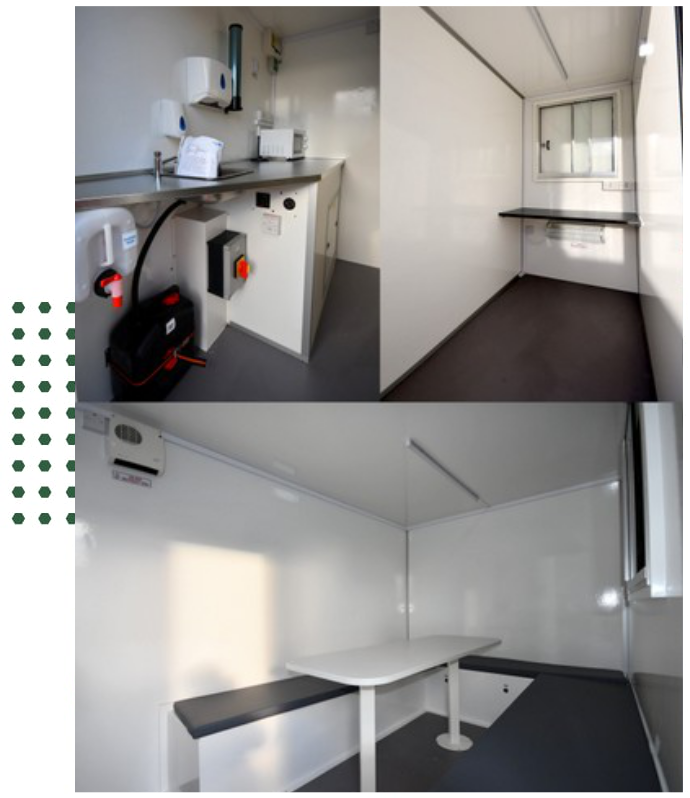 EcoPod mobile welfare units are available for hire and to purchase.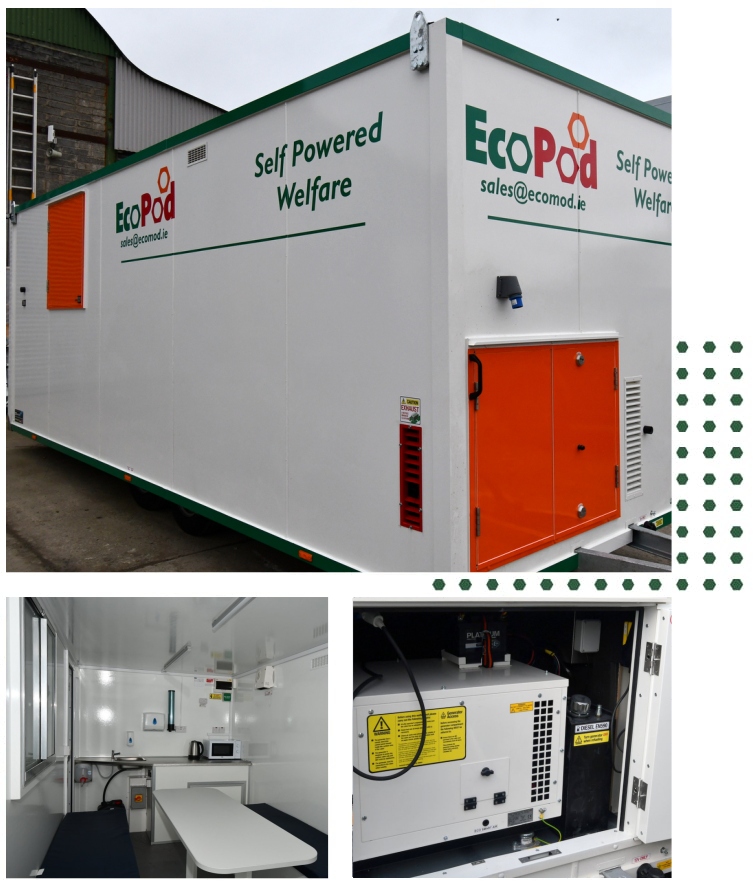 Why EcoMod
Why choose an EcoPod mobile welfare unit for your site?
Our customers love the comfort, efficiency, safety and modern feel  of the premium-quality EcoPod mobile welfare unit.
We are a Dublin-based company and deliver to any site nationwide. We have a large fleet of EcoPods which means our logistics team can deliver to your site quickly.
Get in touch today and let us help you to find the best fit for your business.
What To Expect?
We have a large fleet of EcoPod mobile welfare units on standby which our logistics team can have delivered to your site at a moment's notice so get in touch today.
Quick Response Times
From your first contact with us, one of our team will be in touch with an immediate callback.
Quick Quote
Based on your needs, our team will send you a quick quote with some additional material to help inform you about the product.
Delivery Date Agreed
Once we have a clear understanding of your requirements we'll agree a delivery date and our logistics team will take care of the rest.

Customer Aftercare
Our business is built on maintaining excellent customer relationships and providing reliable and responsive aftercare.
EcoPod Projects
Take a look at some of the recent projects our team has completed with EcoPod mobile welfare units.
Customer Testimonials
Kind words from our customers
Contact Us
Get in touch with us