Portable Toilets Ireland
Toilets & SHower Facilities
Comfortable, high quality WC & shower facilities in an instant.
If you need portable toilets or shower facilities for your staff or organisation, we can supply fully-fitted units which are ready to be connected to your mains water and waste supplies in no time at all. And, if you have no access to mains waste, don't worry, we have you covered!
High Quality Portable Toilets
Perfect for any setting & available for purchase or hire
Our portable toilets & shower blocks are very high quality and we can also supply waste & water tanks if there is no available connections to main services onsite. This makes them perfect for use in almost any setting.
They are available in a variety of configurations, including:
Male/Female Split Blocks
Single Sex Blocks
Disabled Access Facility
And we offer bespoke options to cater for any customer requirements.
Features
Comfortable Units With A High Quality Finish
Our portable toilets and shower blocks come with the following features and are available for purchase or for hire.
Domestic Quality White Sanitary Fittings
Hot & Cold Running Water
Electric Showers & Cubicles
Safety Flooring
Wipe Down Vinyl Finished Walls
Hand Dryers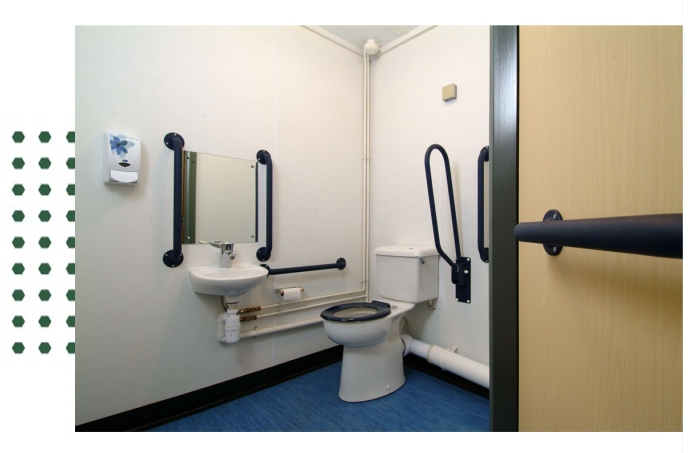 EcoMod Portable Toilets & Shower Blocks are available for hire and to purchase.
What To Expect?
We have a fleet of units available for hire so lead times on rentals just depend on stock availability. Factory lead times will be advised if a unit is required for purchase. 
Quick Response Times
From your first contact with us, one of our team will be in touch with an immediate callback to discuss your needs.

Additional Information
Based on your needs, our team will send you additional videos and brochures to help inform you about the relevant products.
Initial Proposal
Based on an understanding of your needs, your organisation and the space available, we will provide you with an initial proposal for your project.
Site Survey
At the earliest opportunity, one of our team will arrange a site survey to your premises to assess the space you have available first-hand.
Final Proposal
With feedback from you and your team, we will develop your final product designs and negotiate a final agreement.

Installation
Our team will complete the installation of your units in a streamlined and efficient manner, minimising disruption to your business. A single unit can usually be installed in just 1 day!

Customer Aftercare
Our business is built on maintaining excellent customer relationships and providing reliable and responsive aftercare.
Customer Testimonials
Kind words from our customers
Contact Us
Get in touch with us