In today's world, businesses are becoming more conscious of limited resources and environmental issues, and as a result, eco-friendly construction is a top priority. Modular and portable buildings are an excellent sustainable option that produces less waste and emissions during construction and provides the flexibility to be repurposed or reused. These buildings offer a ready-made solution for companies looking to lead the green revolution.
By choosing modular and portable buildings, businesses can take an important step towards achieving their sustainability goals, and in this article, we explore the specific ways they can benefit sustainability efforts, from reducing environmental impact to increasing energy efficiency and more.
What makes modular and portable buildings sustainable?
Modular and portable buildings are quicker to build and more carbon efficient
One of the primary advantages of modular and portable buildings is their pre-assembly, which results in a faster and more efficient on-site setup. This, in turn, allows for better quality control and reduces the overall construction timeline, resulting in a reduced amount of site activity.
This translates into both monetary savings and a lower carbon footprint, making modular and portable buildings a more sustainable option compared to traditional construction methods. With faster construction timelines, businesses can save on costs and reduce the environmental impact of their building projects.
A reduction in waste makes portable buildings the greener option
The construction industry is notorious for generating massive amounts of material waste, contributing significantly to environmental pollution. However, modular buildings offer a solution to this problem.
Because modular construction takes place in a controlled factory environment, the chances of waste due to material damage or building errors are significantly reduced. Since the building components are manufactured off-site and transported to the construction site, it's easier to reuse materials in future builds instead of sending them to landfills. This sustainable approach not only minimises waste but also decreases the overall environmental impact of construction projects.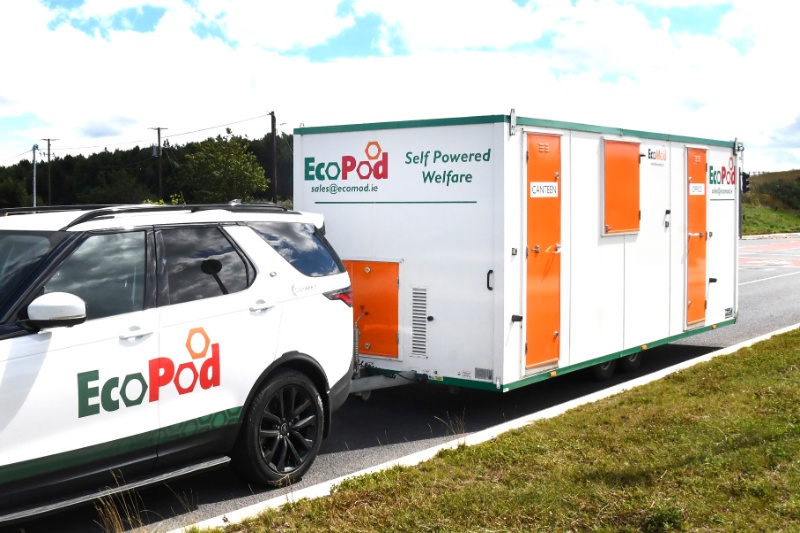 Pre-assembly cuts down emissions
Modular buildings are delivered to the construction site as pre-built units, which greatly reduces the need for multiple construction vehicles to come and go from the site, delivering materials and performing construction tasks. This results in fewer emissions and pollution, as well as reduced noise and traffic congestion. This sustainable practice of off-site construction and delivery not only benefits the environment but also improves the overall efficiency and safety of the construction process.
Modular buildings are built to be energy efficient
Modular buildings are a great option for companies looking to minimise their carbon footprint and improve energy efficiency. These buildings are highly insulated, which ensures that the interior temperature remains consistent and comfortable, reducing the need for heating and cooling systems. This not only leads to significant savings in energy costs but also results in a substantial reduction in greenhouse gas emissions.
Additionally, the insulation in modular buildings ensures that they remain energy-efficient throughout their lifespan, making them a sustainable and cost-effective option for businesses. By choosing modular buildings, companies can reduce their impact on the environment while also benefiting their bottom line.
Modular buildings can easily be reused or recycled
Modular buildings offer significant environmental benefits over traditional buildings. Unlike traditional buildings, which generate large amounts of debris when demolished, disassembling a modular building produces very little waste, and the materials can be reused or repurposed.
Similarly, portable buildings can be easily relocated from one site to another, providing a flexible and sustainable solution for companies that need to adapt to changing business needs. By choosing modular or portable buildings, companies can minimise their environmental impact and promote a circular economy by reducing waste and maximising the use of resources.
EcoMod is your provider of sustainable modular and portable buildings
At EcoMod, we value sustainability and our range of modular and portable buildings has been designed to reflect this commitment. Our lineup of eco-friendly modular and portable buildings includes:
The SpaceMaker is a versatile and reliable portable building that can serve various purposes, from offices to storage facilities. This "plug and play" unit comes in a range of sizes to accommodate your specific requirements. You can also easily expand your space by connecting multiple units, which can be double-stacked with the addition of external staircases.
The SpaceMaker Plus is an expanded portable building solution that is ideal for open-plan offices, staff facilities, and training rooms. With its sleek and modern design, it sets a new standard for large-scale portable buildings. Crafted with top-quality materials and construction, this building offers superior space and functionality.
The EcoSpan modular building is a versatile and flexible solution to your workspace needs, with 3m wide individual modules that can be seamlessly joined together to create large workspaces of any scale or layout. The modules can be combined end-to-end, side-by-side or double-stacked to meet your specific space requirements. With endless possibilities for customisation, EcoSpan can be designed to meet any specifications you need.
The EcoSecure. If security is a top priority for your site, the EcoSecure anti-vandal portable building is the ideal solution. It offers a top-of-the-line anti-vandal design that provides the ultimate protection for your assets. Fully compliant with health and safety regulations, the EcoSecure is a versatile and flexible option that can provide maximum security and peace of mind.
The EcoPod Mobile Welfare Unit offers modern and highly efficient mobile welfare units that can be easily transported to any location. These units provide all the necessary welfare facilities you need within 30 seconds of arriving at your site. With its super-efficient design, the EcoPod is an excellent solution for any project requiring quick and convenient welfare facilities such as canteens, restrooms, drying rooms and many others.
We believe that sustainable building practices are essential for the future of our planet, and we are proud to play our part in creating a more sustainable world. Our products are not only eco-friendly but also cost-effective, offering flexibility and customisation options for our clients.
Our team is dedicated to providing exceptional customer service throughout the entire process, so get in touch with us today to learn more about our range of modular and portable buildings, and don't forget to also check out our blog and resources for even more modular content.