Countries all over the world are starting to generate more of their energy from wind and sun. This shift to alternative sources of renewable energy will create millions of jobs in construction, installation, and maintenance. So how can modular buildings support renewable energy projects?
At EcoMod, we understand that the needs of the renewable energy industry are constantly evolving. That's why we offer modular building solutions that can be adapted to fit the changing needs of our clients.
Whether it's a new wind farm or a solar array, our modular buildings can provide workers with the space and flexibility needed to get the job done.
Improved infrastructure for renewable energy projects
The renewable energy industry is always looking for ways to improve production and minimise construction timelines. Whether it's wind farms, biodiesel plants, or solar panels, the need within this largely unending market has led industries to seek ways to reduce production costs.
So as the demand for renewable energy sources continues to grow, so does the need for the infrastructure and support services required to bring these projects online.
EcoMod has extensive experience manufacturing portable and modular buildings for various industries, including the renewable energy industry. For the renewable energy industry, modular construction is a money save and a time saver when compared to traditional construction methods.
Read on to learn more about how modular construction can be an enormous asset to renewable energy projects.
The benefits of modular units for renewable energy projects
Modular buildings support renewable energy projects in several ways:
1. Reduce travel to project sites
Renewable energy sites tend to be located in rural areas that are often difficult to access. Modular unit accommodations on-site allow staff to change, eat on-site, take more comfortable breaks, host on-site meetings and cut down on their commute time.
2. Multiple functions depending on staff needs
Modular units can be used for various purposes, from break rooms and canteens to offices, storage and welfare facilities. This flexibility allows companies to tailor the units to their specific needs and adjust them as they change over time.
3. Flexible modular designs
The often remote location of renewable energy sites can make it difficult to access amenities.
Our self-contained portable and modular buildings come equipped with various features that make them ideal for use on-site like this.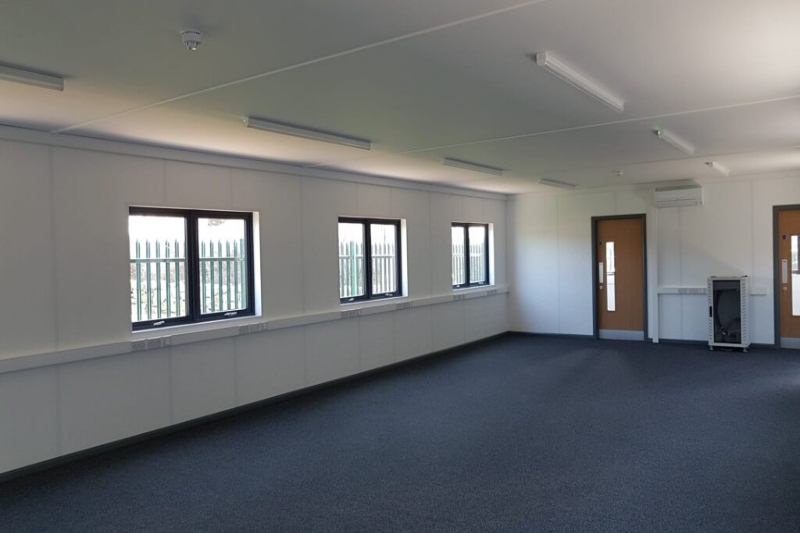 4. Customisable buildings in a variety of sizes
From small, single-story buildings to larger, multi-story structures, there is a modular unit to fit every need. So speak to an expert today to find out what size and spec of the building would best suit your needs.
5. Quick installation and easy relocation
Modular buildings can be installed quickly, and they can be easily relocated if the project site changes. With modular construction, there's no need to worry about most of the traditional site preparation.
Instead, the building can be delivered to the site and assembled in a matter of days. And if solid foundations are required, we can take care of that as well.
6. Lowers labour costs
Unlike traditional construction, modular buildings are built in a controlled factory environment. This means there is less need for on-site labour, which can help reduce the project's overall cost.
7. Lowers material costs
Because our modular buildings are built using prefabricated components produced in a factory setting, this allows for better quality control and reduced waste and savings can be passed on to you, the buyer.
8. Renewable energy projects can benefit from shorter lead times
Modular buildings can be built in a fraction of the time it takes to build a traditional structure and we have many portable and modular buildings on-hand for short notice requirements so your site can be up and running with minimal lead time.
9. Higher standard of safety
With portable and modular buildings, there is less need for heavy machinery and other construction equipment on-site than with traditional builds. This can help to create a safer working environment for workers on-site and can help to protect the environment in what can typically be quite rural and scenic locations.
10. Higher testing quality
Our portable and modular units meet and exceed the highest standards of building quality and regulations so you can rest assured that your project is supplied with state-of-the-art facilities from minute one.
Your renewable energy projects could benefit from our modular solutions
In the renewable energy industry, time is money.
By prefabricating buildings off-site, modular construction can dramatically reduce lead times and often cost less than traditional construction.
Modular buildings can be deployed for a variety of purposes, including:
Break out rooms for workers
Canteens, WC, and changing facilities
Site offices to act as a base for the project manager and site engineers
Secure on-site storage
Plus pretty much anything else you could need indoor space for!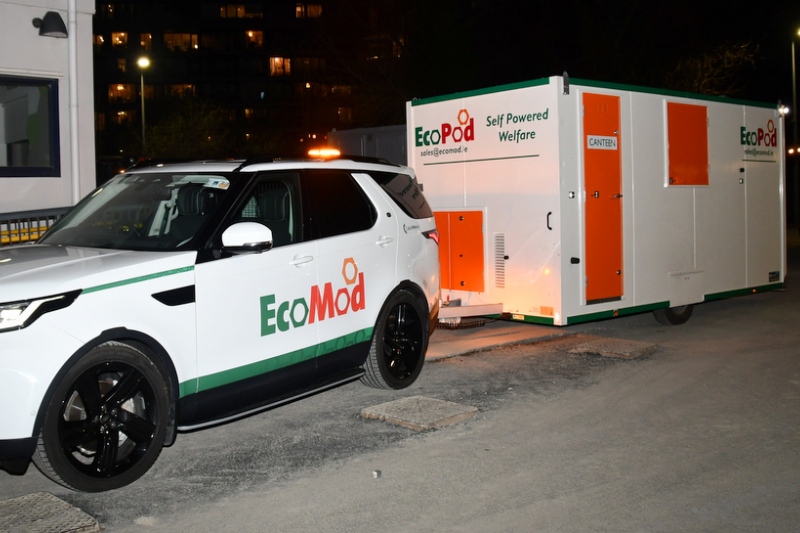 The EcoPod is perfect for renewable energy projects
The EcoPod mobile welfare unit is a self-contained unit that can be towed to any location and it is perfect for maintenance projects on rural or hard-to-reach renewable energy sites.
The EcoPod is quick and easy to set up, with facilities available for use 30 seconds after arrival. It is fitted with charging points, a self-powered canteen, WC, and a drying room. It is an essential piece of equipment for any temporary site, ensuring workers have access to the necessary welfare facilities.
With their easy setup and self-contained power, the EcoPods are the perfect solution for any renewable energy project, such as the construction of solar farms, along with many other practical applications.
Contact us today to learn more about how our modular and portable building solutions could benefit your renewable energy project. Be sure that you also check out our blog and resources to learn more about modular units and their benefits.