In today's interconnected world, which places a premium on swift communication and immediate updates, VMS boards have risen to prominence as essential communication devices. Their dynamic adaptability renders them especially invaluable across a wide array of sectors, ranging from construction sites and public institutions to critical emergency management scenarios.
These advanced digital displays are engineered to facilitate seamless, real-time communication, guaranteeing that crucial information reaches the intended audiences without delay. In this article, we delve deeper into the multifaceted benefits of VMS across different industries, placing particular emphasis on why EcoMod's VMS offering stands out as a pioneering solution in this domain.
The mechanics of VMS boards
A VMS board is an advanced digital display system crafted to convey diverse messages that can be modified responsively based on real-time requirements. This innovation is the contemporary response to the timeless demand for efficient, instantaneous communication, especially in fluid environments where situations or data can shift in the blink of an eye.
Thanks to the strides made in modern technology, there are now cutting-edge options like solar-powered VMS boards, which represent the perfect marriage of technological prowess and environmental consciousness. Harnessing the abundant energy of the sun, they significantly reduce reliance on the conventional power grid. Additionally, their groundbreaking micro-power consumption design guarantees that the signs remain illuminated, regardless of weather conditions, be it rain or clear skies.
The versatility of VMS boards across sectors and industries
VMS boards are not restricted to a single application or industry; their versatility extends across many sectors:
Construction and landscaping
Navigating the intricate dynamics of construction sites is made considerably more streamlined with the aid of VMS boards. From directing heavy machinery through precise pathways to providing instantaneous alerts about potential hazards or site changes, these boards play a pivotal role in bolstering safety and augmenting the efficiency of both construction and landscaping endeavours.
Gardaí and emergency services
In critical moments of crisis, timely and effective communication can be the difference between life and death. VMS boards facilitate the rapid broadcasting of emergency alerts, guaranteeing that the general public remains well-informed of imminent threats or evolving situations. Furthermore, in scenarios involving roadblocks or unexpected traffic disruptions, the Gardaí can leverage these digital displays to reroute traffic away from affected areas, seamlessly guiding vehicles around obstructions or suggesting alternative routes.
Public works and local government
It's imperative for any governing body to consistently update the local populace about current public works, infrastructure upgrades, or maintenance activities. Through the utilisation of VMS boards, residents are not only kept well-informed but also feel more involved in local governance. This proactive communication ensures transparency and plays a crucial role in nurturing trust within the community. Additionally, these dynamic boards can be employed to advertise local events, services, and initiatives, further strengthening community bonds and fostering a cohesive sense of belonging.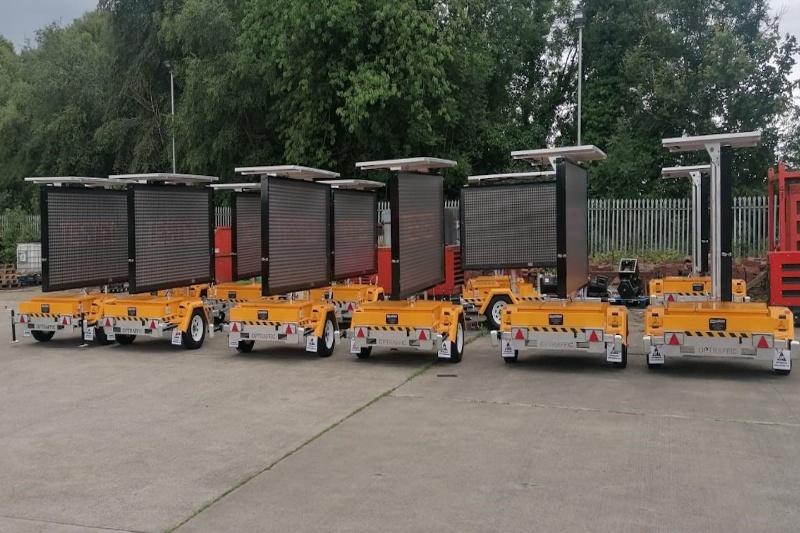 Colleges and universities
On vast academic campuses, maintaining consistent communication with students and staff can be a challenging endeavour. This is where VMS boards demonstrate their true potential, broadcasting a wide array of announcements ranging from job fairs and research symposiums to open-day events. Moreover, during peak traffic times, such as the beginning and end of school days, these boards prove to be indispensable. They adeptly guide vehicular traffic towards vacant parking spots or alternate routes, playing an instrumental role in ensuring the efficient and smooth functioning of the campus environment.
Health departments
During episodes of public health emergencies or widespread alerts, it's paramount that the country is informed swiftly and accurately. VMS boards empower the HSE or other health organisations to disseminate real-time updates and advisories directly to the public. Beyond just broadcasting, these boards are integral for effective crowd management, especially at vaccination centres. They can display vital information such as current wait times, the number of vaccines available, and specific vaccination booth locations, ensuring an orderly and efficient process for all involved.
Stadiums and events
Managing vast crowds, especially at sizable events or venues like GAA clashes at Croke Park or festivals like Electric Picnic, necessitates careful planning paired with clear communication strategies. VMS boards serve as indispensable tools in this regard, efficiently guiding attendees to the designated entry points, crucial facilities, and safe exit routes. Beyond mere directional assistance, these boards are invaluable in broadcasting critical safety announcements. Whether it's impending weather disturbances or urgent emergency evacuation instructions, they ensure that participants have a streamlined, safe, and enjoyable experience throughout the event.
EcoMod VMS boards boast user-friendly design and management
EcoMod is your supplier of VMS boards that artfully combine operational efficiency with unparalleled user-friendliness, and have established themselves as the premier choice for diverse messaging requirements.
Boasting an intuitive user interface, our VMS boards promise a user experience marked by effortless operation. Their featherweight construction not only facilitates hassle-free mobility but also ensures straightforward towing. Given our design focus on practicality, even a single person can effortlessly assemble and set it up.
But what truly differentiates EcoMod's VMS from the rest is its state-of-the-art micro-power consumption technology. This groundbreaking feature guarantees continuous, uninterrupted functionality, making certain that your messages remain brilliantly illuminated around the clock, all year long.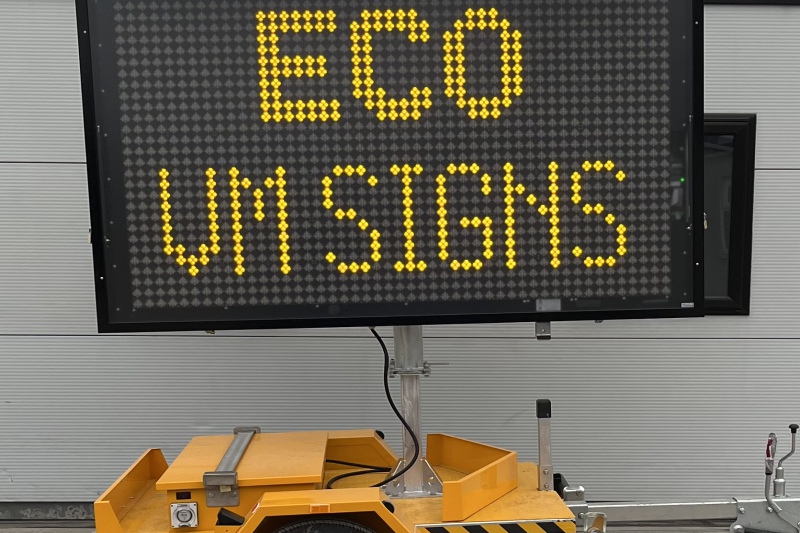 EcoMod is your provider of VMS boards across Ireland
From the bustling activity of construction zones to the sprawling expanses of university campuses, the versatility of VMS boards is evident across a diverse range of sectors. EcoMod's VMS series distinguishes itself not just through its intuitive, user-centric design but also through its steadfast dedication to environmental sustainability.
For those in pursuit of a flexible, straightforward solution adept at accommodating an extensive array of applications, EcoMod's Variable Message Signs emerge as the ideal choice.
Experience the unique EcoMod advantage today and elevate your communication approach to the next level – reach out to us today to find out more.