With theft and vandalism a constant concern on construction sites, it is crucial that construction businesses keep their site's equipment and staff safe. An anti-vandal building is essential for any on-site premises today, but they play a special role when it comes to construction and related trades.
Investing in anti-vandal units is one of the most assured ways to secure any building site, and in this article, we explore six reasons why you should consider investing in an on-site anti-vandal unit for your next construction project.
1. Secure onsite storage
Investing in an anti-vandal unit is essential when protecting your business' assets. Such units are designed to provide ultimate security levels and safeguard any sensitive data, documents, or equipment you need to be stored safely. With these reliable protection systems, you can rest easy knowing that all your valuable items remain secure.
Well-secured onsite units also provide employees with a place to store their possessions and take breaks throughout the day. Without a secure breakroom, you leave your projects vulnerable to inefficiencies and hiccups due to overworked, distracted staff or the theft or loss of expensive, bespoke equipment. Investing in a well-stocked and well-protected breakroom will prevent this and demonstrate to your employees that their security is being taken seriously.
2. Easy maintenance
Anyone involved in construction will understand the importance of meeting tight deadlines. Constantly maintaining your site office robs precious time and resources that could be better spent elsewhere. Thankfully, anti-vandal units provide a comprehensive solution with their durable design and ability to withstand harsh weather conditions along with the rigorous demands of any construction environment.
3. Sustainability and efficiency
It is indisputable that modular construction has a far lesser impact on the environment than traditional methods do. Using our anti-vandal units as on-site offices will not only provide excellent security and peace of mind but can enhance your reputation as a sustainability-driven company too.
Additionally, the efficiency of our anti-vandal units means that you can enhance your on-site space even more. EcoSecure anti-vandal units feature sliding window shutters, a steel finish that won't rust, 32amp plug points, adjustable telescopic jack legs for optimal efficiency and removable wall panels that enable you to customise them as required.
Eco-friendliness and detailed customisation truly do make the EcoSecure a great candidate for on-site secure storage.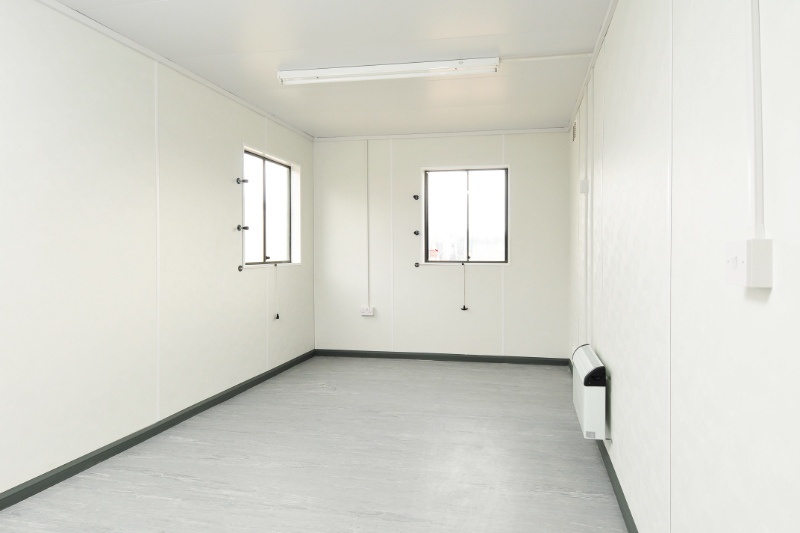 4. Comfortable but secure
We at EcoMod understand that the hefty security measures should not impede your comfort. That is why our anti-vandal units are outfitted with insulated flooring and double-stacked external staircases to ensure you have an enjoyable living experience. It is this combination of convenience and assurance that makes the EcoSecure a truly class act.
5. Peace of mind
Site security is a major concern, especially in remote or high-risk areas. This becomes an even more potent issue when the storage of expensive, bespoke, hard-to-source equipment is involved.
However, the EcoSecure provides numerous security features against theft, damage, or vandalism – helping to reassure you, your staff, clients, and stakeholders that the site is truly secure.
6. Highly convenient
Portable buildings are a quick solution when you need fast additional space on your site. While traditional builds would take days or weeks to complete, we will manufacture your EcoSure anti-vandal unit offsite and then deliver and install it in a day.
This level of convenient and clean installation can transform your construction site overnight into one where both employees and stakeholders feel secure.
Meet our EcoSecure anti-vandal building
From the reasons above, it is clear that every construction project needs a secure, protected on-site building from day one. EcoMod's EcoSecure anti-vandal building can provide exactly that.
If you want to refine your onsite security and storage needs, the EcoSecure is a top-tier selection to make. It offers the perfect combination of protection and convenience, while its versatility and stress-free setup make it an exceptional choice for any construction project, big or small.
The EcoSecure is available for either rental or outright purchase, so all sizes of construction outfits can benefit from this remarkable anti-vandal on-site solution. Get in touch with our experienced and dedicated staff today to find out more, and don't forget to also check out our blog and resources for more news and updates from the world of portable and modular buildings!