Expanding your organisation is no doubt one of your primary goals as a business owner, and although growth is what you strive for, it can bring its own set of challenges such as an increasing need for more physical space. Modular buildings are the ultimate solution to this problem.
While going down the bricks-and-mortar route has always been the more traditional option, but more and more Irish businesses are realising just how much quicker, more affordable and more flexible modular construction can be.
In this article, we discover the benefits of expanding your business using modular buildings along with some of their most common uses.
Benefits of modular buildings
If you need to expand your business, modular buildings are the answer. Not only can they be typically built for a much lower cost and in less time than a traditional build, but they also offer a whole host of other advantages.
Gone are the days of dull, boxy prefabs — modern modular buildings are finished to the highest standards and include ultra-modern features such as A+ rated double-glazed windows, floor and ceiling insulation, and energy-efficient lighting and heating.
Here are just some of the many benefits of choosing modular over traditional builds:
Bespoke designs
Modular buildings are customisable to your unique specifications, giving you the freedom to design your own building or choose from a range of bright, modern designs.
They can be designed in any desired size, shape and layout you like, and you can choose from a host of extras such as Wi-Fi and air conditioning.
Option to rent or purchase
Whether you need more space on a temporary or permanent basis, modular buildings are versatile enough for both. You can rent them for short or long-term expansion projects, or purchase them outright.
This gives you incredible flexibility when it comes to managing the inevitable increase in expenditure that comes with business expansion. You can even sell them in the future if you wish, giving you even better value for money!
Modular buildings are eco-friendly
The production process of modular buildings generates less waste than traditional construction methods. In addition, our modular offices are very well-built with excellent thermal and energy efficiency, resulting in reduced carbon emissions (and the added bonus of lower running costs!).
Time-saving
Modular construction is much faster than traditional methods due to a combination of factors, such as:
The modules are manufactured off-site, in factory conditions.
Adverse weather conditions have little to no impact on the project timeline.
There is less on-site disruption because most of the work has already been done before the modules are delivered to the site.
The modules are usually delivered with most of the fittings and fixtures already in place, so they can be assembled very quickly.
All of which results in a much shorter production lead time.
Modern aesthetics
There is a wide range of external finishes available, meaning that you can choose the material and colour that blends in with the rest of your business premises.
Cost-effective
The construction and labour costs of modular construction are typically much lower than traditional builds, offering a more affordable solution to your storage and expansion needs. They can be designed and built to fit your precise budget requirements and can be rented or purchased giving you multiple options for your budget.
Adaptable for many sectors
Modular buildings can be customised to suit virtually every industry and sector, and are particularly popular for:
Commercial businesses
Education sector
Healthcare sector
Construction sector
Data centres
Logistics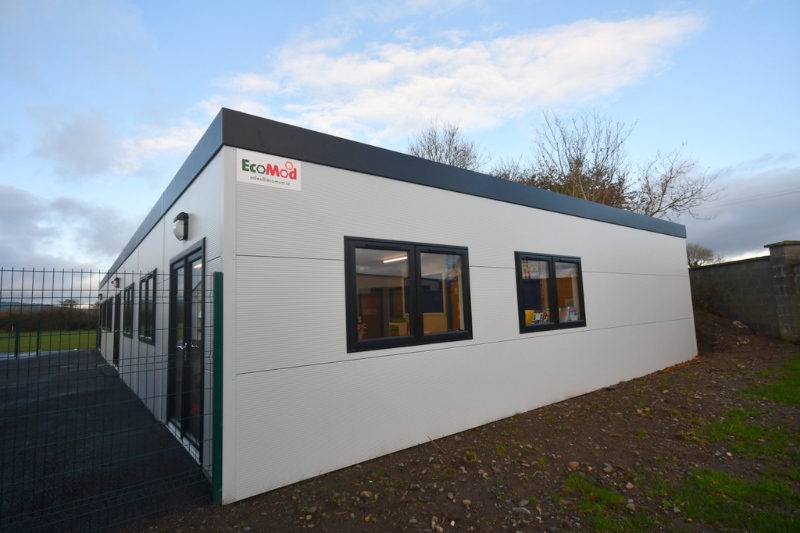 Business expansion to suit your site
Every site is different and every business has unique needs. If you need to expand but have limited ground space, multiple-storey modular buildings are the perfect solution.
You can build upwards, scale and expand as needed without the associated costs and stress of building a bricks-and-mortar building.
Uses of modular buildings
Modular buildings have a multitude of uses for any business that needs extra space. Some of the most common uses of modular buildings include:
Offices
Lunch and break rooms
Team rooms
Bathrooms
Conference rooms
Exterior storage
Training rooms
Locker rooms
Our modular expansion options
If you're curious about expanding your business using modular buildings, get in touch and our friendly team will be happy to discuss your needs.
Our SpaceMaker, SpaceMaker Plus and EcoSpan ranges can help your business gain more space for less cost, both from a monetary and an environmental perspective.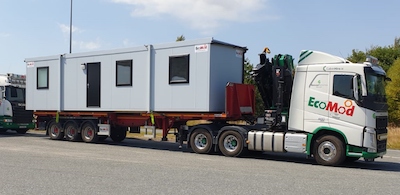 A high-quality 'plug and play' portable unit that can be used for many different purposes. These modular buildings come in small, medium and large sizes to fit your needs and multiple units can be linked together or double-stacked with external staircases fitted.
A single-module building that's perfect for open-plan offices, staff facilities and training rooms. Its contemporary modern design and high-quality specifications set the standard for large portable buildings.
This highly-customisable option comes in individual 3m wide modules which connect to form large workspaces of any scale or layout. The EcoSpan modules can be joined end to end, side by side or double-stacked and can be internally designed to meet any specifications.
Expand with EcoMod modular buildings
At EcoMod, we pride ourselves on providing bespoke, high-quality, structurally sound solutions for all your construction and expansion needs. As an Irish company with over ten years of experience and a team of fifty dedicated staff, you can rest assured that you're in safe hands.
Contact our experienced team today to get started on your modular journey, and don't forget to check out our blog and resources for the latest news and trends in the modular construction industry.