If you're in need of modular services, you're probably wondering if you should purchase or hire modular buildings outright, so we've compiled a guide to help you make the call.
But first, what exactly is a modular building?
How do we define "modular buildings?"
A modular building is a structure that consists of individual sections or units known as modules.
The modules are manufactured off-site under strict factory conditions, and then transported and assembled on-site in the desired configuration. This allows for a structure of any size, shape, and layout to be built in a shorter time frame and with much less disturbance to the site than with traditional construction methods.
Modular buildings are easily relocated, which makes them particularly well-suited for temporary sites such as construction sites where there's likely to be a very limited timeframe for which they will be required. But they also have a life span of over 50 years so they are also popular options for more permanent structures such as office buildings.
They can be both rented and purchased from EcoMod Modular Buildings.
In this article, we'll discuss the reasons for each option so you can decide which is right for your project.
What do you require from a modular building?
It is always a good idea to assess your modular building requirements before making a purchase or a hire. To help you determine whether hiring or purchasing a modular building is better for your business, consider the following two questions:
1. What exactly is your goal or objective?
You need to have a reason for the need for an expansion of space.
Do you have a short-term requirement, such as a specific project that needs to be completed in a certain time frame? Or do you have a long-term requirement, such as needing extra storage space or office space for your growing business?
For whatever reason you have for the need for a modular building, understanding your objective will help you settle for the most viable solution.
2. How long do you need a modular building?
Time frames are vital when deciding whether to buy or rent modular buildings.
Do you need the extra space only for a few months? Is your need for extra space seasonal? Is your need recurring?
If you only need it on an ad hoc basis, then renting may be better than buying. However, if you are looking at longer-term requirements, purchasing might be more beneficial.
The decision to buy or rent solely depends on your company's needs, goals, and budget. Whatever you decide, it's important to weigh all of the factors, including additional costs, before making a final choice.
Some additional costs that might influence your decisions include energy expenditures, insurance and taxes, and security and maintenance costs.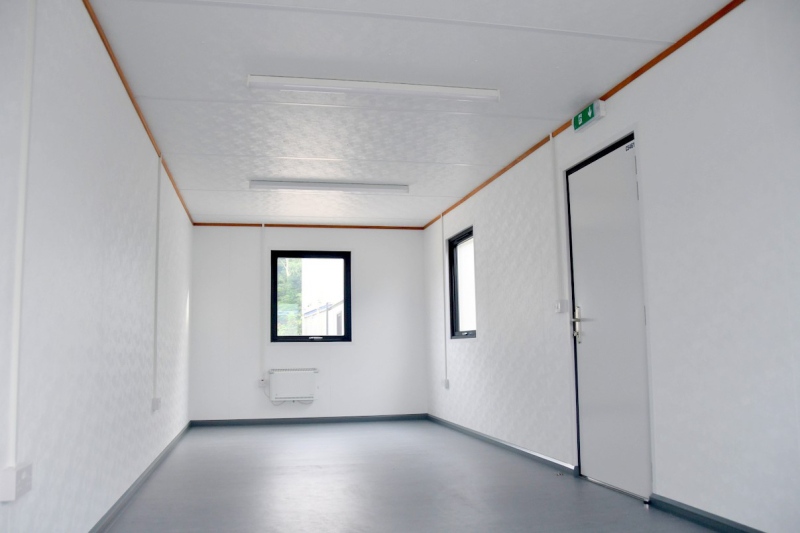 Reasons for hiring modular buildings
If your project is temporary, you should consider hiring a modular building instead of buying one.
It will be cheaper to hire one temporarily and then move it when you're done with it than to purchase and store a building that you're not using long-term. This allows you to control your expenses and align them with your business's changing dynamics.
Some of the major reasons for renting modular buildings include:
A response to peak demand
A need for a temporary workplace during construction or temporary projects
The need for a temporary office or sales area
Any displacement of main production or storage units
Temporary work or storage space while traditional construction is ongoing
Renting modular buildings is the most common short-term solution to your needs.
The flexibility of leasing can also give you the opportunity for a trial run before deciding to purchase a modular building for permanent use.
Modular buildings can be rented on either a short-term or long-term basis depending on your business's requirements and budget constraints. Speak to our team today for a quote based on your needs.
Reasons for purchasing modular buildings
Purchasing is a secure investment for long-term projects. This can be especially important if you need a building quickly, are working on a small budget, or know you'll need to move in about ten years.
Our modular buildings can be delivered directly to your location and set up without needing as much construction work as other building types might. See our Modular Buildings vs Traditional Builds article for more information.
The reasons for purchasing to buy a modular building for most businesses include the need for:
More office space for company growth
Safe storage space in controlled areas
New packaging and shipping areas
Extended company reception area
Hospitality areas in sporting environments
Training and educational space
Open plan canteens and changing facilities
Purchasing is the cost-effective option for your business in the long term that adds value to your business in a short time frame at a low cost.
So while it may seem easier to rent, purchasing will save you money.
EcoMod is your reliable modular building provider
For over a decade now, EcoMod has been your number-one provider of quality modular buildings in Ireland. With our team of dedicated professionals focused on delivering the best quality products and customer service, we have helped customers just like you find affordable and efficient modular buildings.
Our service is simple: we offer a variety of high-quality portable and modular buildings and will work with you to create a solution that fits your needs.
So whether you are looking for modular buildings to rent or for sale, we'll help you find a solution that works for your budget and your business.
Contact us today to kickstart your next venture, and be sure to visit our blog for more insights into the ever-changing world of modular construction.