Employee induction represents a vital part of the onboarding process, helping recruits settle into their roles and hit the ground running.
But while there are numerous benefits from engaging your employees in an induction process, it nonetheless can present a problem for smaller businesses – where are these new employees going to be inducted and trained? And where will they be able to operate once their induction has been completed?
In this article, we explain how and why you should set up an induction programme for your company, as well as provide a solution for where your new hires are going to be brought into the company fold. But first, let's explore what employee induction is and what benefits it can bring to your company.
What is employee induction?
An induction programme is a schedule of events to help new hires adjust to a company's work environment and learn more about their roles.
Most inductions include an 'orientation' event welcoming them to the company on their first day and providing the information they need to know about their work environment. Induction programmes may also include informal meetings or team-building sessions to help new employees build relationships with their colleagues.
Inductions differ widely depending on the employee's role, the size of the company, and the nature of their work environment. Typical office workers, for example, may experience different inductions to those working remotely or across multiple sites.
While companies may benefit from creating a standard induction programme, events and meetings should be tailored to employees' needs.
Why is employee induction important?
Induction programmes help to reduce anxiety in new starters and help them settle into their role as efficiently as possible. In so doing, inductions can help to reduce employee absence and turnover rates, boost productivity, enhance job satisfaction, and build a welcoming company culture.
Inductions can also ensure your company fulfils its legal duties by disseminating information about health and safety and employees' rights surrounding benefits such as parental leave, sick leave, and holiday allowances.
All in all, an engaging and comprehensive induction programme can deliver several benefits to both your business and its recruits, so let's explore those benefits next.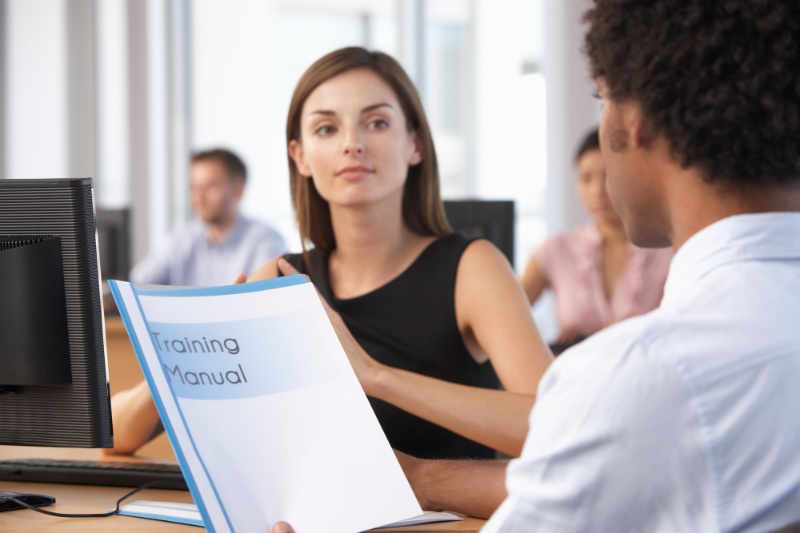 The benefits of employee induction
Makes new hires feel more comfortable
New hires often feel nervous before starting a new role, regardless of their career stage. Induction programmes reduce anxiety by providing new starters with the information they need to fulfil their duties, as well as an opportunity to integrate with team members before they're at full working capacity.
Improves employee performance
Workers who understand their companies' values and aims typically feel more driven to produce their best work. Well-structured and engaging training events help to inspire employees before they get to work.
Employee induction improves employee retention
Inductions help employees feel supported and ensure they have direction in their initial weeks. As such, they're more likely to settle into their roles quickly and remain loyal to their new company. In the long term, induction programmes can reduce staff turnover and disruption to your company.
Ensures consistency for all new employees
Inducting employees ensures you provide consistent information across your organisation, reducing the likelihood of mistakes, miscommunication, and internal conflict. Every new hire should receive an employee handbook on their first day, ensuring they have all the information they need to perform well.
Introduces the company culture
Every company has its unique values and ways of working. Inductions help employees get used to their company culture and communicate effectively with colleagues. Immersing new hires in the tone and style that a company operates under is an effective way to help them develop a sense of belonging and familiarity.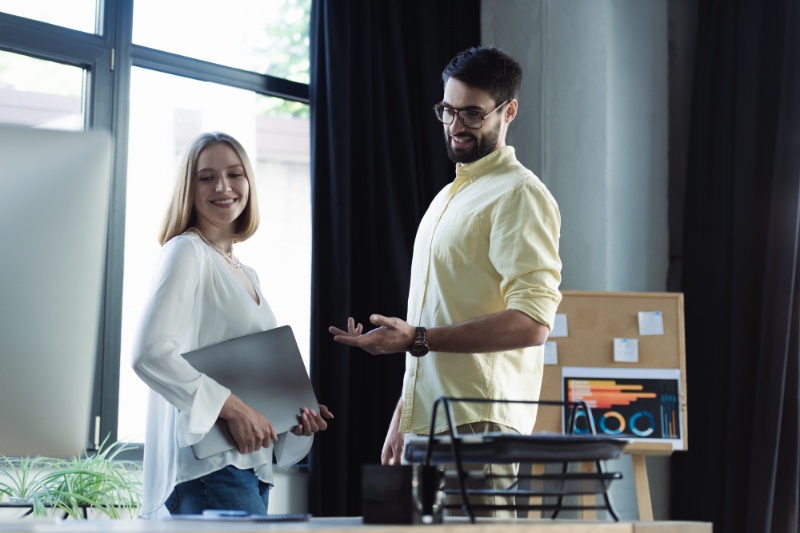 What does the employee induction process look like?
Every induction should provide employees with the practical information they need to stay safe and productive at work. Key points to cover may include inclusion and diversity policies, health and safety protocols, data protection policies, company strategies and goals, and role-specific information.
Beyond this information, the induction programme should include training opportunities and chances to meet new colleagues. You may also wish to pair your new hire with a mentor for their first few weeks.
The amount of training your new hire receives will depend on their role and experience level. For example, a graduate role may require an extensive training programme, while a more senior position may require a couple of informal meetings about the company's tech systems.
HR teams and managers should also remember to provide plenty of information the week before the induction starts, as this will ensure recruits feel prepared for their role.
New hires need new space
In summary, the employee induction process can take more forms depending on the business that is conducting it, but regardless of the shape it takes, no serious business should be without one.
But while all of this sounds intuitive and agreeable, many businesses, especially smaller ones, may be concerned about where their induction programmes can take place. So, if you're a small-to-medium business owner and you require some extra space to introduce your new hires to your company, EcoMod Modular Buildings have the solution for you.
Our portable buildings can provide extra space for new hires and inductions
If you're looking to expand your workforce and provide an induction programme that goes the extra mile to make employees feel welcome, we can provide you with the extra space you need to fulfil your vision.
Our SpaceMaker and SpaceMaker Plus portable buildings provide high-quality office space and induction areas with the facilities you need to make employees feel comfortable and motivated, allowing you to scale and customise your space as needed, for a fraction of the cost of a standard building. And, because they are manufactured off-site, they can be installed with minimal disruption to your business or organisation.
Our SpaceMaker and SpaceMaker Plus buildings are also available for hire or purchase, depending on your budget and desired use, and come in a range of sizes to suit your needs and induction plans.
So get in touch with our friendly and experienced team today to find out more about our portable and modular buildings can help you revolutionise the way you hire, retain and welcome staff into your business.
Don't forget to also take a moment to browse our blog and resources to see the latest exciting developments in the world of modular buildings.