When overseeing a sizable event or a major project, especially when it's held outdoors, ensuring the availability and easy accessibility of restroom facilities is of paramount importance. Portable toilets stand out as a highly beneficial solution in these situations, offering both hygiene and comfort to venues where fixed restrooms may be in short supply or absent. Ranging from busy construction zones to bustling music festivals, the demand for dependable, functional, and hygienic portable toilets in Ireland is a recurrent necessity across diverse industries and events.
Sectors that utilise portable toilets in Ireland
Portable toilets play a pivotal role across a variety of venues and situations:
Construction sites: By ensuring workers' comfort and well-being, portable toilets not only bolster productivity but also align with vital health and safety regulations, safeguarding the workforce
Sporting events: Whether for attendees cheering from the sidelines or athletes amid competition, the presence of easily accessible restrooms considerably elevates their experience, allowing them to enjoy the event without inconvenience
Outdoor gatherings: For events hosted in parks or other expansive outdoor locales, portable toilets step in as indispensable amenities, especially when existing public restroom facilities are inadequate or far-removed
Festivals: Be it music, art, or cultural festivals, portable toilets are designed to withstand high-frequency usage over a condensed period. This ensures that attendees can immerse themselves in the celebrations, free from the distraction of seeking out restroom facilities
Utility companies: When conducting maintenance, repairs, or installations in remote or urban areas lacking nearby restroom facilities, utility companies deploy portable toilets for their crews. This ensures that employees can work efficiently without having to leave the site in search of restrooms, thus maintaining workflow continuity and upholding workers' comfort and convenience during lengthy assignments.
In each of these situations, the strategic placement of portable toilets not only upholds rigorous sanitation standards but also significantly enriches the overall experience for workers, participants, and spectators alike.
How to choose the best portable toilets in Ireland
When determining the perfect portable toilets for your needs, you should take into account several factors:
Size and capacity: Assess the anticipated volume of usage. This will help you decide on the appropriate size and determine the number of units required to adequately serve your attendees
Portability: Prioritise units that are designed for effortless movement and straightforward installation, especially if your event or project has a quick turnaround or is of short duration
Comfort: A well-designed portable toilet, which emphasises both comfort and pristine sanitary conditions, will significantly enhance user satisfaction and encourage use
Features: Depending on the nature and demographic of your event, consider units that come with added features. This could range from handwashing stations for improved hygiene to baby-changing facilities for family-friendly events
Making the right choice in portable toilets can play a pivotal role in the smooth running and overall success of your project or event. As such, it's imperative to opt for a solution meticulously tailored to cater to your distinct requirements.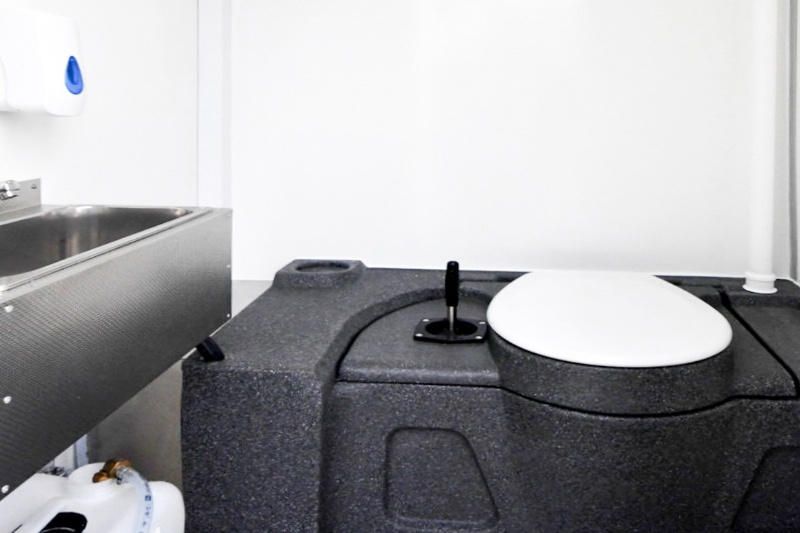 Meet the EcoPod Mobile Welfare Unit: the best portable toilet on the market
Among the plethora of portable toilet options available in Ireland, the EcoPod Mobile Welfare Unit distinctly establishes itself as a frontrunner in the sanitation industry. Specifically tailored to deliver a potent combination of sturdiness, comfort, and ecological responsibility, the EcoPod is an unparalleled solution designed to meet sanitation requisites across diverse sectors.
The EcoPod sets itself apart with a suite of unique features:
Green by design: Embodying environmental stewardship at its core, the EcoPod proudly boasts its own generator, lighting and water and effluent tanks. This not only minimises its carbon footprint but also fosters sustainable practices by diminishing its environmental toll
Exceptional durability: Crafted with superior materials and engineering precision, the EcoPod is not just robust but is also resilient enough to endure heavy traffic, and the unpredictable Irish weather, guaranteeing unwavering dependability
Ample capacity: With a design focused on accommodating a large crowd, the EcoPod stands out as the go-to choice for events teeming with attendees or extensive construction projects
Versatile utility: The EcoPod goes beyond traditional sanitation offerings. It houses a canteen for refreshments, changing quarters for convenience, and even a dedicated office space, positioning itself as a fully-fledged mobile welfare solution.
By seamlessly integrating these attributes, the EcoPod doesn't just meet the standard criteria expected of portable toilets in Ireland; it elevates them. By judiciously addressing prevalent issues such as wear and tear, accommodating capacity, and environmental considerations, the EcoPod solidifies its position as the gold standard for portable sanitation requirements.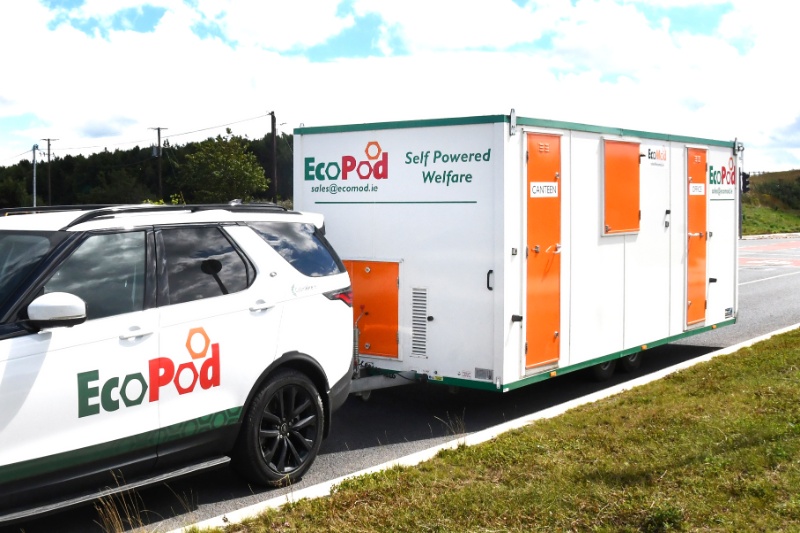 The EcoPod is the best solution for portable toilets in Ireland
No matter the sector, whether it be construction, event organising or sport, if you're in search of top-tier portable toilets, the EcoPod Mobile Welfare Unit stands out as the predominant choice.
The EcoPod provides an unmatched blend of sturdy construction, expansive capacity, user comfort, and a myriad of value-added amenities. Furthermore, its staunch commitment to environmental stewardship positions the EcoPod at the forefront of portable sanitation solutions.
For an integrated, user-friendly, and high-performing answer to your mobile sanitation requisites, get in touch with our friendly and experienced team here at EcoMod today to find out more about the EcoPod.
Opt for the best with the EcoPod — your guests, attendees, or workers will thank you for it!