Over the past two decades, modular buildings have grown in popularity across almost every sector due to their efficiency, flexibility and affordability. One sector that they have seen particular growth in modular office use is the construction sector as on-site offices.
A modular building can be delivered on-site with minimal lead time and then taken away or relocated when it is not needed anymore. They can be constructed to pretty much any size, shape and spec imaginable and with EcoMod, they are available for hire or purchase.
Because of this adaptability, ease of use and value for money, more and more construction companies are using modular buildings from EcoMod for their on-site offices and site accommodation than ever before.
In this article, we explore exactly why our modular buildings are the perfect solution for any on-site office or facilities needed for your next construction project and look at some of the various options available.
But first, what exactly do we mean by "modular buildings"?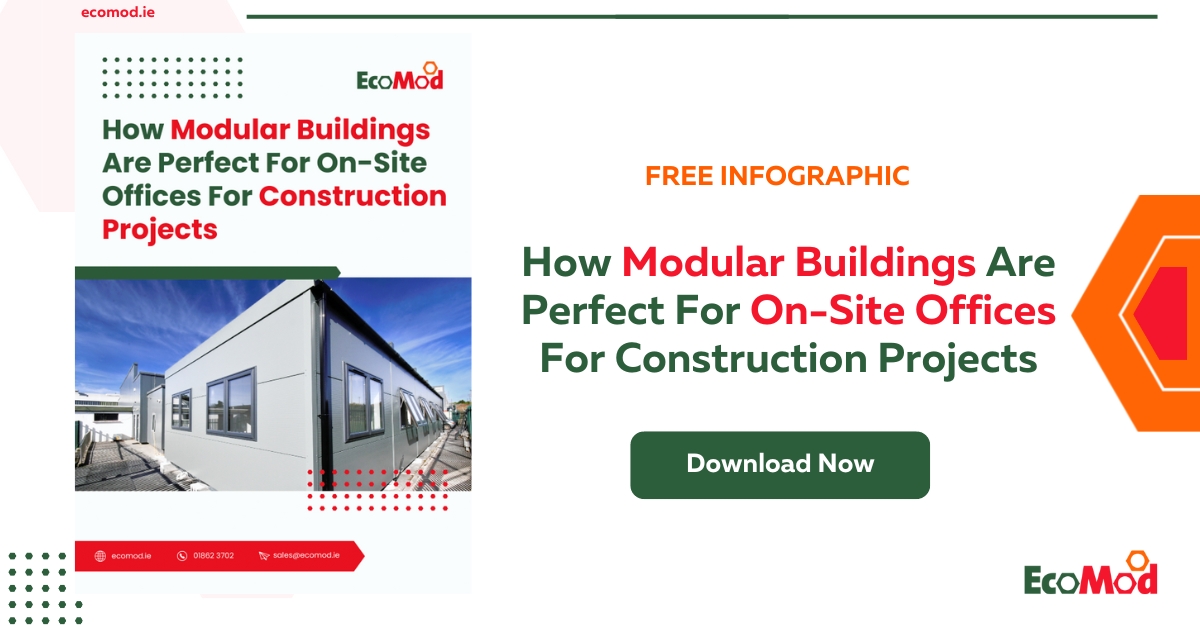 What are modular buildings?
A modular building is constructed from prefabricated modules that are assembled on-site, by an experienced team with minimal lead times.
The modules come in standard sizes and shapes but the result can be a building of any size or shape required. They are a great option for companies who need on-site offices that are efficient, cost-effective, customisable and can be created with minimal lead times.
What do we mean by on-site offices?
An on-site office is the hub of any construction site, either residential or commercial. An on-site office typically offers storage space, meeting rooms, training rooms, washrooms, changing facilities and, of course, office space for foremen, site managers and construction teams alike.
Today, on-site offices are typically prefabricated because they are generally required temporarily and only exist on the construction site until the project is completed.
What to consider when looking for on-site offices for your construction project
Whether you are planning to hire or purchase a modular on-site office, it is important to consider the following factors:
Facilities
What facilities will your on-site office need to properly service your team for the duration of the project? Will you need:
Office space?
Canteen areas?
Changing facilities?
Meeting space?
Storage space?
Drying rooms?
Bathrooms?
Shower rooms?
Training rooms?
The facilities that our modular buildings can cater for cover all of the above and more, but it's important to have a strong grasp of your initial requirements when it comes to weighing up your options.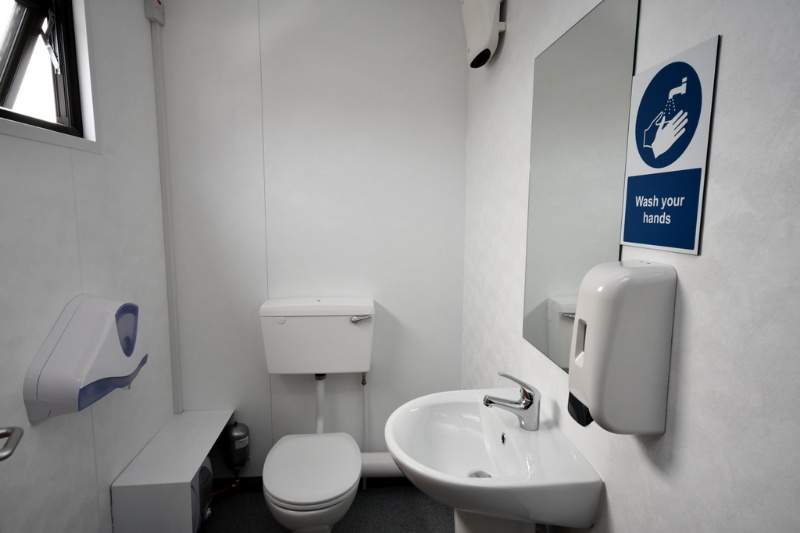 Size
How many people will your on-site facilities need to cater for? How big does the space need to be? How much equipment or technology needs to be installed inside it?
For smaller projects, there are 'out-of-the-box' type solutions available that would be standard for many projects but when it comes to larger projects the right team will work with you to outline the best layouts and internal fit-outs for your specific requirements.
Portability
How easy is it to move your on-site office? Can it be moved around the site depending on certain needs?
Some construction projects are simpler than others. Your on-site office may sit in place from start to finish and only get removed once the job is completed.
But you might need to relocate your modular facilities two or three times throughout a longer project as you move from phase to phase of the development so it's important to factor in how easy it is to move your solution if needed.
Security
Security is a huge concern for any construction site or building project, given the expensive tools, high-tech equipment and important documents that are typically on-site.
Your modular on-site office should be built specifically for safety and security so protect your property and IP from thieves.
Our EcoSecure Anti-Vandal Buildings are perfect for sites with security requirements.
Comfort
While this might not be at the top of everyone's requirements list, your employees and workers should be comfortable in their workspace. This relates to both the facilities they have on hand and the quality of these facilities.
No one wants to work in damp, dark places with no privacy and minimal facilities, so think about what your on-site solution should offer your employees and consider creating a work environment that will help to maximise productivity and employee retention.
On-site offices mean convenience and short lead times
While on-site offices should offer employees a convenient space to work, communicate and store equipment, they need to be convenient in and of themselves.
For example, how easily can they be maintained? Can they be transported or hooked up to a source of electricity without any major effort required? How much set-up is involved?
And of course, timelines are crucial to any construction project, so what are the lead times like on the modular on-site offices? How quickly can they be up and running?
The advantages of using on-site offices
Once these considerations have been taken into account, the many advantages of utilising modular on-site offices become even more apparent:
Significant time-saving
Why erect a permanent site for a project with a limited time scale? A modular on-site office could be built in less than half the time of a more permanent office, and typically with more features and facilities too.
Using modular construction for this purpose would save you time and money, not to mention making any end-of-operations clean-up far faster and cleaner.
Security control
As we discussed above, security is a vital aspect of any construction project. Expensive and bespoke equipment and technology, along with crucial documentation, are all often stored on sites and need to be protected.
Modular on-site offices provide excellent security because it is easy to lock down individual sections when required, or all at once, if necessary, without affecting the rest of the office.
Bigger return on investment
Modular on-site offices are more affordable to build and maintain than traditional ones with large rooms that require expensive furniture and lighting fixtures.
They can also integrate better with natural light sources, reducing energy consumption and improving employee productivity and morale.
Plus, with options to hire or to purchase from EcoMod, you can see a real improvement in value for money on your investment.
On-site offices offer flexibility
Modular on-site offices can be assembled and disassembled in a matter of hours, or a few days depending on the complexity of your setup, making them an ideal choice for on-site construction offices. This flexibility makes them easier to move around and make changes when needed without having to worry about breaking walls or floors during the process.
This bespoke adaptability also allows for easy reconfiguration and can be used as an extension of the main office or locked off when not in use.
Reduced energy costs
The building materials used for these structures are much more energy efficient than traditional construction materials such as steel and concrete. This means that modular buildings can use up to 80% less energy than conventional buildings.
Modular on-site offices are also heated up and cooled down far faster, and when combined with adding eco-friendly technologies such A+ rated double-glazed windows, low-watt bulbs and efficient generators, can reduce energy costs even further.
Eco-friendly
Modular on-site offices are designed to have a low environmental impact while offering unmatched flexibility.
They are built in factory conditions and the various components, such as walls, furniture, and lighting are very accurately measured before construction, leaving very little waste materials.
Money-saving
Compared to the cost of having a crew of workers build a traditional on-site office, modular ones are far more affordable and can be completed in less than a week.
Modular buildings also provide you with the option to rent or purchase outright, giving you far more flexibility with your money. They can also be moved from location to location depending on your needs, and can last up to 60 years – so you know your investment will be worth it.
On-site offices offer excellent quality
Modular structures offer a high level of structural strength, while also providing flexibility in terms of layout, size, and configuration.
Most components can be removed and replaced when necessary and they also require less maintenance work because they don't need extensive repairs and can be designed in a variety of shapes and sizes – including double-stacked for multi-storey buildings.
Meet the EcoSecure Anti-Vandal Unit
If you require an on-site office, no matter how long or for what purpose, modular buildings are simply the best option for the job, and our EcoSecure anti-vandal modular building is the best option on the market.
The EcoSecure is the leading solution for providing a secure, on-site office for individuals, businesses, and ongoing projects.
The EcoSecure is fully compliant with health and safety regulations and can be linked and double-stacked, making it suitable for an extensive range of uses and industries. There are also options available for large, open-plan buildings made from the same modules as the Eco-Secure for projects with larger teams.
Get in touch with our dedicated sales team today to discover how our modular buildings can provide you with a secure and centralised on-site office and facilities for your next construction project.
Take a moment to also check out our blog and resources for more of the latest trends and developments in the modular building industry.