In many industries around the world, the advantages of modular construction are becoming more and more apparent, especially when it comes to quality, flexibility and affordability. The healthcare sector is a prime example of an industry in which modular buildings can make a significant impact.
Modular buildings for the healthcare sector
Modular buildings provide businesses in many industries to expand their facilities flexibly and cost-effectively, while still guaranteeing top quality – and the healthcare industry is at the top of the list of those who can benefit from everything that modular construction can offer.
Modular buildings can be used for mobile clinics, urgent care clinics, laboratories, physician's offices, diagnostic centres and much much more. Everything from canteens and shower rooms to kitchen spaces and open-plan offices can be built quickly, with minimal fuss and almost no downtime to existing facilities.
In this article, we explore how modular buildings can be used for healthcare facilities and can be installed at a fraction of the cost of traditionally constructed buildings while still delivering the highest quality workspaces.
How could the healthcare industry benefit from using modular buildings?
Any healthcare facility needs to be durable, cost-effective, clean and high-quality to facilitate daily operations. But what kind of healthcare facilities can benefit from the use of modular buildings?
Below are just some examples of how modular buildings can become integrated into the healthcare environment:
General Practitioner (GP) offices
Emergency hospitals
Dialysis clinics
Chemotherapy clinics
Medical research labs
Outpatient clinics
Pharmaceutical labs
Dental offices
Veterinary clinics
Rehabilitation clinics
Testing centres (including for COVID-19 and Monkeypox)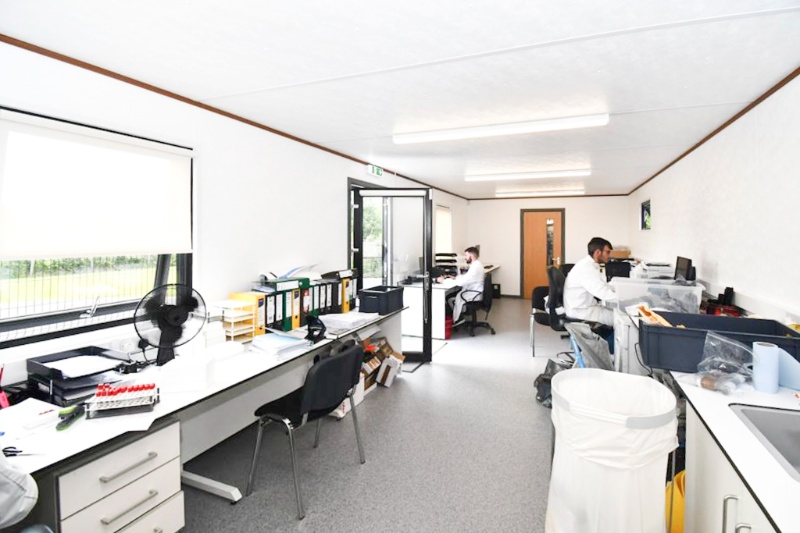 How can modular buildings be customised for healthcare purposes?
One of the flagship advantages of modular buildings is their wide range of customisation options. This can be a particular asset in the medical industry, where a wide variety of structures are needed for an even wider variety of purposes. Each medical facility can be tailored and customised to meet specific requirements, such as
Waiting rooms and reception areas
Exam rooms
Surgical rooms
Private offices
Emergency rooms
Laboratories
Radiology rooms
Dispatch Offices
Intensive care units
Delivery rooms
Maternity wards
Pharmacies
Break Rooms
Bathrooms
Cafeterias
Kennels and boarding rooms (veterinary medicine)
Modular medical clinics
Modular triage and diagnosis facilities
Temporary testing facilities and modular medical offices
Mobile urgent care centres
Assisted-living facilities
Diagnostic imaging centres, including those with CT scanners and MRI equipment
Facilities equipped with radiology equipment and X-ray technology
Administrative office buildings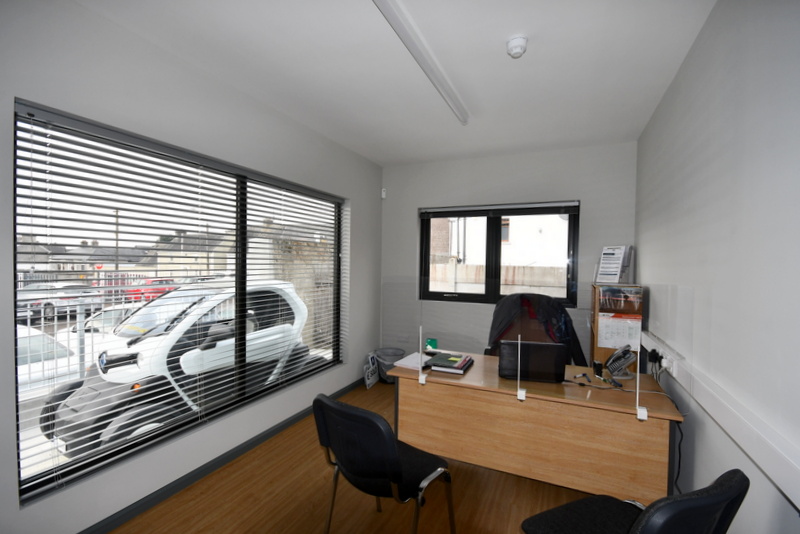 The benefits of using modular buildings for healthcare services
As we've discussed, modular buildings have many advantages over conventional construction, making them well-suited for healthcare facilities. Let's explore some of these benefits in more detail.
Flexibility and Scale
Modular buildings offer increased flexibility and scale in a healthcare setting. They provide the option to rapidly expand capacity during a surge or crisis, and then subsequently be scaled back again once the immediate demand recedes. This kind of flexibility is essential when dealing with an unpredictable situation such as the COVID-19 pandemic.
Modular healthcare buildings can also be repurposed for many varying needs. They can be assembled and then disassembled quickly and efficiently, then relocated somewhere else when the need arises.
This level of flexibility also offers cost-effectiveness in terms of raw materials and sustainability, with modular structures requiring up to 60% less energy and creating up to 90% less waste than conventional construction methods.
Affordability
Modular buildings are affordable and can be hired for a set period or purchased outright, further increasing their cost-effectiveness. They allow both patients and medical employees to avail themselves of a functional hospital structure without jeopardising institutional finances.
It is also worth considering that traditional construction expenses often cause projects to exceed their budget. This can be due to several factors such as sourcing and transporting materials, along with the physical realities of navigating construction sites. The modular construction process, however, is far more predictable and dependable and can often be a deciding factor in projects coming in on time and under budget.
Modular construction is also much faster than traditional construction, leading to a noticeable reduction in labour costs and the more efficient usage of resources and materials.
Clean construction and minimal interruption
Healthcare environments should typically be as clean and sterile as possible. Modular buildings allow you to create such surroundings and avoid a noisy, dusty, disruptive construction site. Modules are constructed in facilities that are off-site, meaning significantly less disturbance at the actual healthcare facility site.
Day-to-day operations remain largely unaffected. Patients can rest, staff can work and visitors can come and go without the interruption of debris, barricades and ceaseless drilling and banging.
The speed and neatness with which modular buildings are then assembled on-site are crucial for healthcare – a setting where timing and often critical for treating patients and saving lives.
Hire or purchase options
Healthcare providers face a constant struggle to keep costs manageable, and construction projects are no exception to this.
Modular construction has become increasingly popular with healthcare companies because it allows for either a permanent, one-time purchase or else a rental for whatever defined period that the healthcare provider will need it for.
So instead of having to pay for construction from the ground up, modular buildings allow for more flexibility and can be either leased/rented or purchased outright or leased first and then purchased down the line.
EcoMod is Ireland's leading provider of modular buildings for healthcare facilities
For more than a decade, EcoMod has been delivering premium modular buildings to healthcare companies across Ireland.
We can assist hospitals, medical facilities and healthcare institutions in expanding their space and capabilities through our wide range of modular buildings.
Our service is simple: we provide a range of high-quality portable and modular structures and will work with you to tailor a solution to your requirements, whatever they may be.
If you feel your healthcare facilities can benefit from modular construction, get in touch with our experienced and friendly team today.
Make sure to also visit our blog for more of the latest news and trends in the world of modular construction!